The mom's Sanaya Sahib has been charged with her murder after making a "full confession" to police.
According to the report, Ms. Nikat spoke only to confirm she had been offered tea and a glass of water, softly answering "yeah." She was arrested at 8.35am on Tuesday in Mont Albert.
At 6 pm on Tuesday, Sofina Nikat, 22, of Mitcham, faced an out-of-sessions court hearing at the West Melbourne police station.
An Australian mom said a drunk man abducted her baby has been charged with murdering the 14-month-old girl.
On Saturday, April 9, Homicide Detective Senior Sergeant Stuart Bailey told the bail justice Ms. Nikat made a "full confession to the murder" of her 14-month-old daughter.
A woman was pushing a child in a pram near where Sanaya's body was found, CCTV footage obtained by 7News showed. And the other footage showed that the same woman calmly walking away from the area without the child.
Family's members at first pleaded with the public to stay attentive to help find Sanaya, as police launched a full-scale search.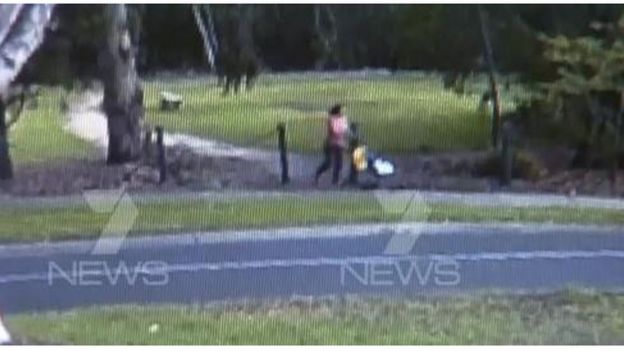 Sanaya's body was found partially submerged in the creek the following day.
Sanaya's father Sameer Sahib told the Herald Sun he was shocked by his daughter's death and felt "sick to his stomach."
He also told the paper that Ms. Nikat had blocked his number for six months, but sent him a text message out of the blue asking him "come see her."
Now here's Questions have been raised about Sanaya's treatment prior to her death. Paramedics were called to treat the little girl for a seizure one week before she died.
An autopsy is expected to show the girl was smothered to death, reports say
Ms. Nikat is due to face the Melbourne Magistrates Court on Wednesday.
Sanaya's body was found in Darebin Creek early on Sunday.
The girls are singing Amazing Grace beside flowers left for the slain tot.
images source:bbc.com